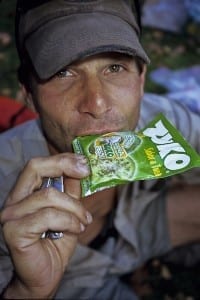 Do your friends complain that all you talk about is climbing? Does your girlfriend get a glazed over look when you try to explain to her just how run-out you actually were, I mean, you were really fucking out there!  Does the man in your life have no idea why its so important that you cross through before you stab the mono, not after?
Well, my name is Chris Kalous and I am here for you. I know how scared you were above that piece, and will hold you tightly in my podcast arms until you feel better. I understand that your beta works for you, and you're going with it even if you've fallen from that same spot 32 times- my podcast will be happy to belay you on the next burn.
Here at the Enormocast, no beta is wrong, no story is too long-winded, and I will never utter the words, "Can we talk about something besides climbing for a change?"
Each episode of the Enormocast brings you a glimpse into the climbing life through discussion, interviews, and my perspective backed by 27 years in the sport. So get on Itunes and subscribe, leave your comments here at enormocast.com or send me an email at [email protected].
More Kalousification on the InterWeb
The Ghost: Big Limestone in the Canadian Rockies
Assume Nothing: Climbing in the Cochamó Valley, Chile
Companion Piece to the Infamous Aid Rant at Rock and Ice
The Only Rule: Don't Be an Asshole!
The Year that Went South: Bariloche, Argentina
The Wadi Rum Expedition: A Film by Aaron Black    Buy it Here.
Elevation Outdoors: Diamond Dogs- how to climb the Diamond on Longs Peak.