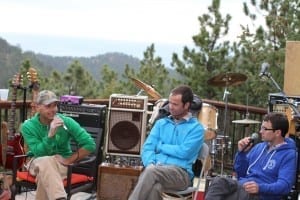 On Episode 60, we record a live one on Climbing Lawyer Dan Markoff's deck overlooking Boulder, Colorado. Climbers Topher Donahue and Chris Van Leuven join me for a discussion of what it takes to lose that new climber smell, and replace it with old trad-climber stink. The sometimes contentious discussion ranges from toothbrush shaving, to where to store your nuts, and, luckily, a few pearls of wisdom get dropped by my guests. I'm pretty sure we don't mention the Black, Indian Creek, or Rifle: perhaps a first on the Enormocast. As a bonus, stick around to the end for a moment of slam poetry created at the event by Jena Kirkpatrick.
Jena Kirkpatrick: Poet for Hire.
Trad with Topher class from the Colorado Mountain School.
Podcast: Play in new window | Download
Subscribe: RSS