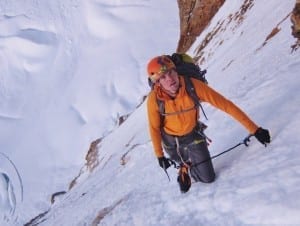 On Episode 53 of the Enormocast, Josh Wharton and I grow drowsy in an uncomfortably warm conference room at the George Something-or-other library in Boulder. Josh shares the highs and lows of his upbringing, talks about his scariest moment in a life of scary moments, and admits that he cried through his first climbing expedition. JW is hot off his latest send: a new baby girl, and though he thinks he's clipped the chains on that one, for a guy who seems to always have a plan, between you an me, I think Josh is in for a surprise or two from life with his new baby-best-friend. Just sayin'.
Josh swimming with the old gals.
Josh Climbing in RMNP (and a good testament to why I don't alpine climb).
Podcast: Play in new window | Download
Subscribe: RSS